Media Center in Calzada de Guadalupe
Designed for the convergence of culture, education, and the arts, the Media Center in Calzada de Guadalupe supports the neighborhood schools through a variety of public programs and learning facilities.
Currently, the sharing of information and learning processes occur primarily through technology. We can access and exchange information in a faster way, improve learning processes, and create new strategies that boost teaching, training and studying.
Fall 2008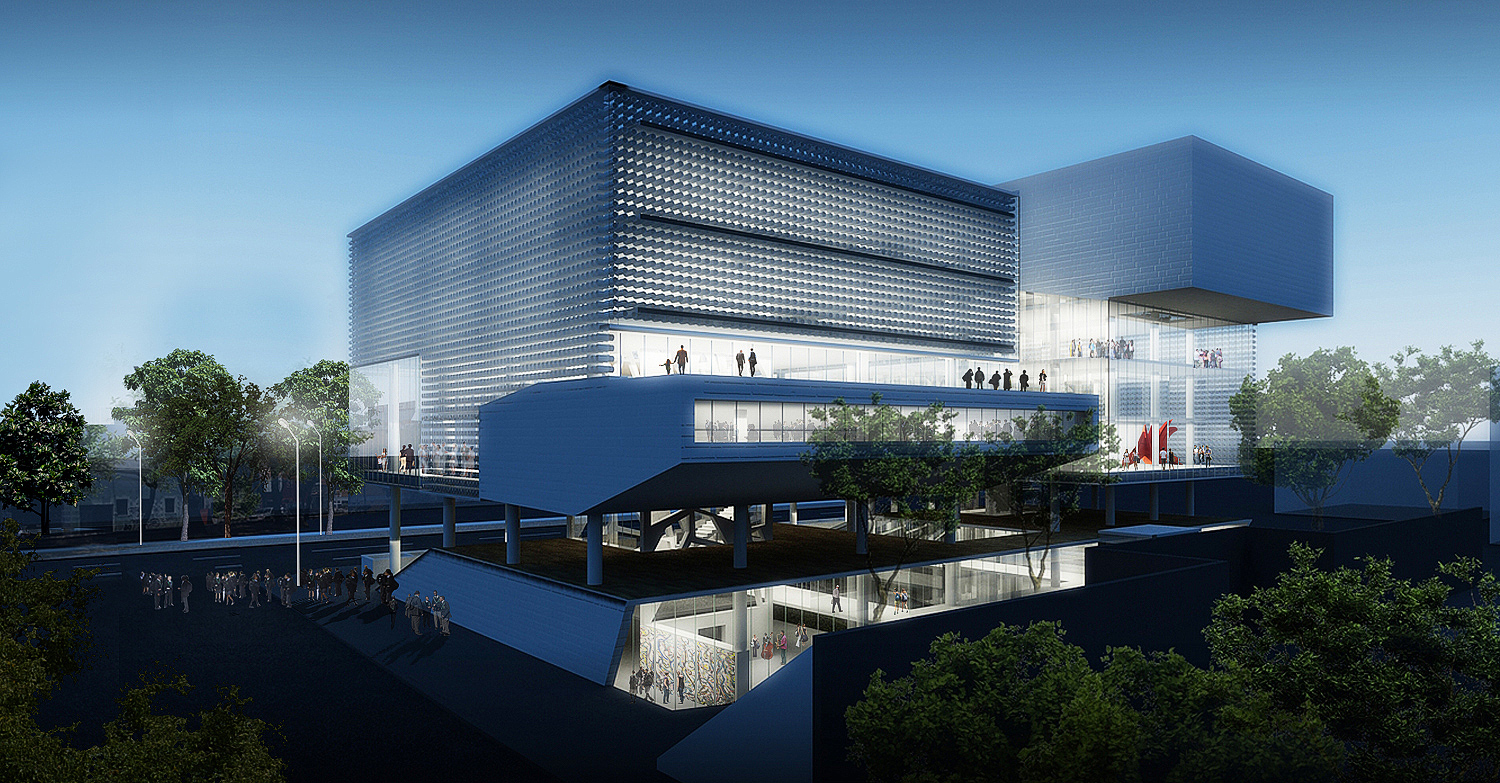 Located near Basílica de Guadalupe, the most important Catholic shrine in Mexico, the Media Center aims to support the lack of educational facilities in the area and improve access to learning in one of the city's neighborhoods with lowest education attainment.


After a thorough analysis of the urban area and its inhabitants, the Media Center programmatic proposal responds to the need for educational infrastructure in a neighborhood that is predominantly composed of youth.

Many local schools serve a wide range of academic levels from pre-school to high-school. However, the existing schools are overcrowded and lack spaces dedicated to unique and progressive learning experiences.


Programs and spaces like screening rooms, audio and video libraries, interactive classrooms, and recreational areas make the Media Center an exciting place for multiple media education. The characteristics of spatiality and fluidity of two interconnected buildings - one educational and the other recreational - allow for the active convergence of culture, education, and the arts.
The building is designed for youth and adults alike and the mix of programmatic activities ranging from cultural to educational aim to capture the attention of neighbors and visitors.
During the pilgrimage season, the building's ground floor plaza is designed to host and provide a place of respite and essential services to the many caravans that walk on Calzada de Guadalupe toward the Basilica.
The building's skin is a high-performing ventilated double chamber facade that reduces energy consumption and improves comfort year around.
In addition to its purpose-driven indoor spaces, the buildings terraces, bridges, and plazas, connect visitors to the city and offer vistas of the Calzada and the mix-used urban fabric that surrounds the site for dynamic relationships between in and out.


Designed for the public, the Media Center aspires to become a welcoming place for learning and exchange of ideas in one of the most densely-populated neighborhoods of Mexico City.